ABOUT US
email:   Dramasoundprojects@gmail.com
We founded DramaSound in the mid-nineteen-eighties as an educational company producing creative music, workshops, movement methodologies and guidelines for educators and students. Now in the new century, we've decided to include our personal projects, as they are part of the spirit of our business: Music, Theatre, Movement, Creativity, Empathy and Community building.
Glenys and Gato
2020
_____________________________________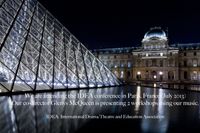 _____________________________________
Glenys McQueen (co-director/ theatre & pedagogy)

(bio)

Glenys McQueen (B.A., Lecoq School, M.Ed)  is a graduate of

McGill University

and the

Jacques Lecoq School

of Physical Theatre in Paris, France. She spent a year in New Zealand as a founding member of the group, Theatre Action, which represented New Zealand at the

South Pacific Trade

and Cultural Fair in Suva, Fiji.  She then spent 11 years in Mexico City, where she taught, acted and directed in professional theatre.  She established and ran UNAM's University Theatre Centre (C.U.T.) movement and non-verbal theatre program, and taught for CONASUPO's

Brigadas de Teatro Campesino

. She was also a member of Las Sombras Blancas, which represented Mexico with their production of ARDE PINOCHO at the

World Theatre Festival

in Caracas, Venezuela.

In Canada, she taught at the

University of Alberta

for two years before moving to

Brock University

, where she teaches acting and Drama in Education.. Glenys' research interests include experimental and international theatre practice;

using music and movement

as educational tools for cross-curricular integration; and developing open and creative teaching practices (adapted from Lecoq-based pedagogy).  
---
 

Rafael Gato Fuentes (co-director/ composer) 

( bio

)


Rafael studied humanities and philosophy at the Jesuit Instituto de Literatura in Guadalajara, Mexico, and the Jesuit Insituto Libre de Filosofia in Mexico City. He joined -as a composer- the theatre group "Teatro Epico," directed by the dramaturg and director, Luis de Tavira, and was twice named "The Best Theatre Composer" by the Theatre Critics Association of Mexico for his works in the plays "The Good Person of Sechuan" (by Bertold Brecht), and "El General Madruga".
His music was part of the Berlin Festival "Horizon 82", in Germany, with "El General Madruga", where the theatre company was enthusiastically welcomed by the critics. In Canada, he has devoted his time to researching ancient cultures, with emphasis on myths and poetry; he also has written music scores for dance and drama for TV Ontario, Brock University and the Toronto District Board of Education.

www.gatofuentess.com


 
---



Terrance Cox (text editor and recording voice) (+2015) We miss our friend and colleague, Terrance


Terrance writes poems and non-fiction, while also teaching Canadian Studies, Film, Literature and Popular Music at Brock University, St. Catharines, Ontario. In what seems another lifetime, he taught as well in Malawi, Africa and at BirZeit in the occupied West Bank. He has published almost 200 poems in Canadian and UK journals. His spoken- word- with- music CD, "Local Scores," was released by Cyclops Press of Winnipeg in September, 2000 and he is now at work on several would-be books of poems and a second recording. His voice can be recognized in our CD's The Celts, Marco Polo, Aztec Calendar, The Romans, North East Explorers, etc.).Our team also includes many educational advisors from across Canada (Toronto District Board of Education, Hamilton-Wentworth Board of Education, Ottawa-Carleton Board, etc.). Thanks to them, projects take shape, booklets are written, and new ideas are born.
---




Emilio Fuentes (e-commerce/Marketing Lead) 


  Emilio holds a B.A. in Communication Studies.  He primarily works as our Media Strategist optimizing website content, and branding strategies for the company . He also works as a sound consultant to post-production final mixing, and is our studio session guitarist/vocalist.

.

 

 
Brian Mccumber (digital sound advisor) (1951-2011)


Brian introduced us to the digital recording, back in the nineties. As well as being a computer expert, Brian spends his time in the jungles of Mexico, exploring the Mayan ruins.
---

Other educational consultants, friends and advisors include:



Jayne Evans and Gerda Klassen

.

Patricia Gaxiola


 

 

Andrea
Hallendy-Mallo
---